Colorado Highways: Interstate 25

Return to Routes 20-39
Colo Hwys Home About
JUMP directly to the photo gallery

Location: South Front Range > Metro Denver > North Front Range
Length*: 298.87mi
S End: New Mexico border at Raton Pass (link to Steve Riner's site)
N End: Wyoming border north of Wellington (link to Andy Field's site)
Nationally: S End: Jct I-10 at Las Cruces, New Mexico; N End: Jct I-90 at Buffalo, Wyoming (1059mi)
Counties: Las Animas, Huerfano, Pueblo, El Paso, Dougals, Arapahoe, Denver, Adams, Broomfield, Weld, Larimer
Places: Trinidad, Walsenburg, Pueblo, Fountain, Colorado Springs, Monument, Castle Rock, Castle Pines North, Lone Tree, Centennial, Greenwood Village, Denver, Northglenn, Thornton, Broomfield, Mead, Loveland, Windsor, Fort Collins, Wellington
NHS: All Interstate Highways are by default part of the NHS.
Freeway: Entire length (exit lists)
Unmarked spur to Aguilar
Marked loop of Walsenburg
Roadways Names:

I-25 is commonly referred to as The Valley Highway in metro Denver, due to it's history as being known as that when it was built. That name, however, is not "official" anymore and does not appear on any signs.
Memorial Designations:

John F. Kennedy Memorial Highway, New Mexico border to the north Pueblo County line

Ronald Reagan Highway, in El Paso County

Scenic & Historic Byways: Santa Fe Trail (New Mexico border to Trinidad)

Milepost Guide:
0.00: New Mexico border (begin I-25 in Las Animas County)

13.60: SH 12 interchange, Trinidad
14.85: US 160/To US 350/To SH 239/Goddard Ave interchange
34.09: BS I-25 interchange, Aguilar
39.10: Enter Huerfano County

49.00: BL I-25 interchange, south Walsenburg
50.05: US 160/SH 10 interchange
52.32: BL I-25 interchange, north Walsenburg
68.85: Enter Pueblo County

74.36: SH 165 interchange, Colorado City

94.76: SH 45/Pueblo Blvd interchange, Pueblo

97.91: BR US 50/Santa Fe Ave interchange
99.95: US 50 East interchange
101.38: US 50 West/SH 47 interchange
116.43: Enter El Paso County

127.86: US 85 interchange, Fountain
131.65: SH 16 interchange, Fountain
138.97: US 24 East interchange, Colorado Springs

139.74: SH 115/Nevada Ave interchange
141.13: US 24 West/Cimmaron St interchange
160.76: SH 105 interchange, Monument
163.32: Enter Douglas County, Monument Hill

184.21: US 85/Founders Pkwy/Meadows Pkwy interchange, Castle Rock
194.31: SH 470/E-470 interchange, Lone Tree
195.13: Enter Arapahoe County

197.18: SH 88 East/Arapahoe Rd interchange, Greenwood Village
199.38: SH 88 West/Belleview Ave interchange, Enter Denver County

200.09: I-225 interchange
201.57: US 285/SH 30/Hampden Ave interchange

204.03: SH 2/Colorado Blvd interchange
207.48: US 85/Santa Fe Dr interchange
207.99: SH 26/Alameda Ave interchange
209.21: US 6/6th Ave interchange
210.31: BL I-70/US 40/US 287/Colfax Ave interchange
213.62: I-70 Exit 274 interchange
214.46: Enter Adams County

215.24: SH 53/58th Ave interchange
216.30: I-76 Exit 5 interchange
217.00: US 36/I-270 Exit 0 interchange
223.04: SH 128/120th Ave interchange, Northglenn
227.34: Enter Broomfield County
227.74: E-470/Northwest Pkwy Exit 46 interchange
228.02: Enter Adams County
229.10: SH 7 interchange, Enter Broomfield County
231.09: Enter Weld County

235.11: SH 52 interchange
240.11: SH 119 interchange, Longmont
243.14: SH 66 interchange
250.24: SH 56 interchange, Berthoud
252.26: SH 60 East interchange, Johnstown
253.19: Enter Larimer County

255.27: SH 402 interchange
257.30: US 34 interchange, Loveland
262.29: SH 392 interchange, Windsor
269.37: SH 14 interchange
277.88: SH 1 interchange, Wellington
291.97: Enter Weld County

298.87: Wyoming border
Annual Average Daily Traffic (2004):
8500 at New Mexico border
14,900 south of Main St, Trinidad
8600 north of BS 25, Aguilar
7500 north of US 160/SH 10, Walsenburg
12,500 north of Walsenburg BL 25
16,800 north of SH 165, Colorado City
34,100 north of SH 45, Pueblo
60,300 north of Abriendo Ave.
71,200 north of 13th St.
28,200 north of US 50/SH 47
27,400 north of Eden
37,400 north of US 85, Fountain
61,900 north of Academy Blvd., south Colorado Springs
83,300 north of south Nevada Ave.
94,200 north of Bijou St.

103,000 north of north Fillmore St

70,100 north of Briargate Pkwy.
53,600 north of SH 105, Monument
52,200 south of Greenland
55,500 south of Wilcox St./Plum Creek Pkwy., Castle Rock

91,600 north of US 85/Founders Pkwy.
86,500 north of Castle Pines Pkwy.
173,000 north of County Line Rd, Centennial
222,000 north of Orchard Rd, Greenwood Village
193,000 north of US 285/SH 30/Hampden Ave., Denver

169,000 north of Downing St

221,000 north of SH 26/Alameda Ave

203,000 north of US 40-287/Colfax Ave.
254,000 north of Park Avenue West *
191,000 north of I-70
234,000 between I-76 and US 36
149,000 north of Thornton Pkwy., Thornton
87,600 north of SH 128/120th Ave.
67,500 north of SH 52
61,400 north of SH 66, Longmont
60,800 north of SH 56
69,800 north of US 34, Loveland
49,600 north of Harmony Rd., Fort Collins
36,700 north of SH 14
18,200 north of SH 1, Wellington
17,000 at Wyoming border
* The busiest stretch of highway in Colorado
Guide:
I-25 starts off in Colorado just north of Raton Pass, descending down Raton Creek Canyon toward Trinidad. I-25 passes right through the middle of town, using an elevated viaduct over streets and railroad tracks. US 160 joins I-25 at Exit 15 on the north edge of town. North from Trinidad, I-25 generally follows the eastern edge of the mountains and foothills, bypassing to the east of Augilar and Walsenburg. Walsenburg features a marked business loop, and US 160 breaks off to head west. As it continues north toward Colorado City, the terrain gets more rolling, but then flattens out again south of Pueblo.

I-25 flies right through the middle of Pueblo, rather than bypassing it. The strecth south of downtown in the Abriendo Ave. area has a bunch of substandard features, including 50mph curves, bridges with no shoulders, 25mph exits, short accel/decel lanes, etc. At the Indiana Ave. exit I-25 passes the Rocky Mountain Steel Mill. North of downtown at Exit 101, US 50 West/SH 47, I-25 encouters its first SPUI.
North of Pueblo, I-25 picks up Fountain Creek and follows that north along the west sides of Fountain and Security-Widefield toward Colorado Springs. It is also along the east border of Fort Carson. As I-25 comes into Colorado Springs, it generally follows along the west side of Fountain Creek, swinging around the west side of downtown, then hugging the hillside that marks the west side of the Monument Creek valley through the northwest side of town. I-25 has six lanes through Colorado Springs from Circle Drive in the south to North Academy Blvd in the north. It features two elongated diamond interchanges, one at South Nevada/Tejon, the other at North Nevada/Rockrimmon/Corporate.
I-25 follows the broad Monument Valley from Colorado Springs north to Monument, and forms the east border of the Air Force Academy part of the way. Monument is basically being assimilated into the Colorado Springs metro area. North of Monument at County Line Road, I-25 rises up and crests Monument Hill, sometimes referred to as the Palmer Divide. At an elevation of 7352 feet, it is prone to severe winter weather. As a result, CDOT has continuous lighting along a three or so mile stretch of it, very rare in a rural area. At first I didn't know what the lighting was for, but Mike Ramsey dropped me a line clearing things up.
I-25 then goes through rolling terrain past Greenland and Larkspur, and after a long straight stretch along East Plum Creek arrives in Castle Rock. I-25 passes to the west of the main part of town, but the town has spread out to envelop both sides of the freeway. Castle Rock is also where the pressure of traffic from metro Denver starts to be felt. I-25 picks up a third lane each direction at the Wolfensberger Rd interchange. From Castle Rock north to Lincoln Avenue (Exit 193), I-25 climbs and falls over a very hilly portion of Douglas County, eventually coming to Lone Tree.
At Lincoln Avenue, I-25 enters the more developed portion of metro Denver. The highway has five lanes in each direction from Lincoln up to I-225 (Exit 200). Near Orchard Road and Belleview Avenue, I-25 skirts the west side of the Denver Tech Center, a massive office park that chokes I-25 and surrounding roads each rush hour. From I-225 northward I-25 has four lanes in each direction.

The section from I-225 to Santa Fe Drive used to be a substandard, with the worst section in a part called the Narrows, from University Blvd to Logan St (MP 205-206). This area hadn't seen a significant upgrade since it was built in the '50s and it was showing. There was poor drainage and minimal shoulders, and the underpass at Logan St would flood during heavy rains, twice in fact during the summer of 1998. It received the nickname Lake Logan. The underpass at Evans Av also had a habit of flooding. But the Southeast Corridor Project, later renamed to T-REX (Transportation Expasion Project) remedied many things in the area. The $1.6 billion project, from Summer 2001 to Fall 2006, expanded I-25 to four lanes in each direction (up from three) from Broadway to I-225, and five lanes from I-225 to C-470 (up from three). The Regional Transportation District at the same time built its Southeast Line along I-25's west side from the existing Broadway station southeast to Lincoln Avenue. Interchange, bridge, ITS, and drainage improvements were made. The left exit and left entrance at the I-225 interchange were eliminated. The project was possible thanks to state voters in November 1999 approving TRANs and metro RTD residents approving bonding for the light rail. A seperate project that ran almost concurrently was rebuilding the I-25 viaduct over Broadway, which at one time was rated as one of the worst bridges in the state.
From Santa Fe northward, I-25 has four lanes in each direction and stays within earshot of the South Platte River until north of Speer Blvd. The section from 6th Avenue (Exit 209) to 20th Street (Exit 212C) has, I feel, too many closely spaced entrances and exits, as well as a sharp curve going over the South Platte River next to Invesco Field at Mile High.

Five miles from 20th Street to north of US 36 have reversible HOT lanes (high occupancy or toll) in the median, two lanes wide Vehicles with two or more people, motorcycles and alternative fuel vehicles (electric, ethonal, propane) are allowed to use the lanes for free, while single occupant vehicles can use them via an electronic toll. The toll point is just south of 58th Ave with HOVs directed into the west lane and toll vehicles into the east lane where the overhead toll reader is. Toll payers need an ExpressToll account, the same eletronic collection system first used by E-470. The lanes are controlled with changeable message signs and gates, with flow going southbound in the morning and northbound evening and weekends. For northbound traffic, entry points are 1) I-25 near 20th St and 2) 20th St downtown with exit points to 1) 70th Ave, 2) westbound US 36 and 3) northbound I-25 north of US 36. For southbound traffic entry points are 1) I-25 north of US 36, 2) 70th Ave and 3) eastbound US 36 near Pecos with exit points to 1) southbound I-25 near Speer and 2) 19th St downtown. The toll for single occupant vehicles depends on the time of day, but is highest during peak hours. The idea to make the toll high enough so that the lanes don't get so much traffic that HOVs are delayed.
The interchange with I-70 (Exit 214) is known as the Mousetrap, and is much better off now than it used to be. See the History section below for more. From the Mousetrap up to the Turnpike Tangle, I-25 has four lanes with auxiliary lanes going each direction, and a nice broad concrete cross section. The Turnpike Tangle is my name for the mass of ramps and bridges that make up I-25's two interchanges with I-76 (Exit 216) and I-270/US 36 (Exit 217), along with the I-76/270 interchange. Construction was ongoing from the mid-'90s to 2008, with the goals of extending I-270 from 76 northwest to 25/36, and connecting HOV lanes on 25 and 36 with direct ramps. See my I-270 and US 36 listings for more.
From the Turnpike Tangle north and out of the metro, I-25 has three lanes in each direction. At 104th Avenue, the speed limit goes from 55 to 65, and at SH 128/120th Avenue (Exit 223), a good chunk of the traffic melts away. From 120th up past Wellington, I-25 is mostly straight and flat, with the steepest grade being just south of SH 56/Berthoud (Exit 250). At SH 66 (Exit 243) the three lanes in each direction become two, and it is like that all the way to Wyoming. From SH 7 to Wellington, there are exits, on average, about every three miles, so you keep busy avoiding exiting/entering cars. Traffic levels drop very suddenly at Fort Collins. Heading north, when you hit the Buckeye Road exit (Exit 281), the land suddenly changes from lush, green farmland to brown prairie. Ah, the wonders of irrigation.....
I-25 is the main artery of the North Front Range for traffic between Denver and Fort Collins. There has been an ongoing North Front Range Transportation Alternatives Feasibility Study to determine the best thing to do in the corridor, which could be one or a combination of passenger rail service, intercity bus service, HOV lanes, or more general lanes. Some numbers: There were 88 accidents in the 14-mile stretch from SH 7 to SH 66 in 1992, but that ballooned to 183 in 1996. The scariest part is that traffic counts keep increasing. Planners expect the counts to increase by (not to) 600,000 motorists between Loveland and Denver by 2020. Some call it "a looming transportation nightmare." (April 13, 1998 Fort Collins Coloradoan by the AP) Interchange improvement projects completed since the late '90s include Exit 240 (SH 119) at Longmont, Exit 268 (SH 68) at Fort Collins, Exit 235 (SH 52) at Dacono and Exit 257 (US 34) at Loveland.
Photo Gallery:
Overhead Signs in Trinidad. Note the SH 12 sign has a Scenic and Historic Byway marker on it. These signs no longer exist due to reconstrution. Photo courtesy Mike Ballard.

Old Exit 49 Sign. 1990s sign that no longer exists. This has got to be one of the weirdest-looking guide signs I've ever seen. All-caps, "NEXT RIGHT", black around the US marker. Photo courtesy Mike Ballard.
History:
Before I-25 was constructed, US 87 pretty much exactly followed its alignment. As a consequence, US 87 is not signed and basically nonexistent. Outside of Denver, the freeway that would become I-25 started as scattered expressway and freeway sections of US 85-87 and US 87-SH 185. See those listings for more. I-25 first appears on state maps in 1961.


Years when various sections of I-25 are shown as completed on maps (south to north):


New Mexico border to Wootton

1965

Wootton to Spring Creek

1967

Spring Creek into Trinidad

1968

Trinidad

A couple of interchanges in place by 1962
Freeway 1969

Trinidad to Ludlow

1969

Ludlow to south Walsenburg

A couple of interchanges in place by 1962
Freeway 1970

Walsenburg bypass

1964

North Walsenburg to Apache City

1968

Apache City to SH 165

1966

SH 165 to south of Pueblo

1965

South of Pueblo to 13th St

1959

13th St to US 50 east

US 85-87 freeway before 1957

US 50 east to north of Pueblo

US 85-87 expressway before 1957
Freeway 1962

North of Pueblo to Fountain

US 85-87 expressway 1958
Freeway 1960

Fountain to South Nevada Ave

US 85-87 expressway 1957
Freeway 1960

South Nevada Ave to Mesa Rd

1959

Mesa Rd to North Nevada Ave

1960

North Nevada Ave to Monument

US 85-87 expressway before 1957
Freeway 1960

Monument to Larkspur

US 85-87 expressway before 1957
Freeway 1965

Larkspur to south Castle Rock

US 85-87 expressway before 1957
Freeway 1968

Castle Rock bypass

US 85-87 expressway before 1957
Freeway 1965

North Castle Rock to about Lincoln Ave

US 87 expressway before 1957
Freeway by 1960

Lincoln Ave to about Arapahoe Rd

US 87 expressway 1958
Freeway by 1960

Arapahoe Rd to Colorado Blvd

1959

Colorado Blvd to Emerson St

1958

Emerson St to 3rd Ave

1959

3rd Ave to Colfax Ave

1957

Colfax Ave to 38th Ave

1953

38th Ave to 58th Ave

1951

58th Ave to 120th Ave

US 87 expressway before 1957
Freeway 1962

120th Ave to SH 7

US 87 expressway before 1957
Freeway 1963

SH 7 to SH 52

1961

SH 52 to SH 66

1960

SH 66 to SH 56

1962

SH 56 to US 34

1963

US 34 to Timnath

1965

Timnath to SH 14

1967

SH 14 to north of Wellington

1968

North of Wellington to Wyoming border

1964


From Castle Rock to Denver, numerous projects have been done starting in the late 1990s. The Founders/Meadows interchange (Exit 184) was rebuilt in 1998, and the former US 85 partial interchange south of Founders was removed in November 2001. Two major projects to widen the accident-prone stretch from Founders to Lincoln to six lanes were completed in 2002. Widening to six lanes from Founders to Wolfensberger was completed in November 2007. The substandard Exit 191 (Schweiger) and Surrey Ridge (Exit 189) interchanges, which featured ramps that teed into mainline I-25 like a right-in-right-out intersection, were closed September 4, 2009 when the new east frontage road was opened. A project to complete four lanes each direction from RidgeGate to Founders was complete in October 2009, while three lanes each direction from Wolfensberger to south of Plum Creek Pkwy was completed in December 2009. Also in December 2009, the new Plum Creek Pkwy interchange in south Castle Rock opened. Previously it featured a split arrangement with the southbound ramps intersecting Plum Creek Pkwy and the northbound ramps intersecting Wilcox St, but the interchange was realigned entirely along Plum Creek Pkwy.

In Denver, a major project to upgrade the Broadway viaduct was completed in spring 2006. The viaduct, built in 1958, was one of the worst-rated bridges on the state highway system and the project expanded I-25 in the area to four lanes in each direction, up from three.

The north I-25 HOT lanes were converted from HOV-only to HOT operation on June 2, 2006. The lanes had been HOV-only since their opening in 1994. The HOT conversion was in response to a law passed in 1999 requiring the tolling.

The Southeast Corridor Project, called the T-REX Project (TRansportation EXpansion), started on September 24, 2001. The project involved major reconstruction of I-25 from Broadway in Denver to Lincoln Ave in Lone Tree. Every bridge from Logan St to I-225, excluding Yale Ave, was rebuilt. Drainage improvements were made to eliminate "Lake Logan", substandard ramps and accel/decel lanes were reconstructed, the University cloverleaf was modified to a SPUI, the left entrance/exit at I-225 was eliminated, and ITS elements were added. A double track light-rail line was built along I-25's west side, with new light rail stations, park-n-ride lots and pedestrian overpasses in the Tech Center. Through lanes were added to bring the number to four in each direction from Broadway to I-225 and five in each direction from I-225 to SH 470. Roadway improvements were completed August 22, 2006 and the light rail line opened November 17, 2006.

Between US 36 and SH 7 numerous projects have happened on I-25 since the late 1990s. A new overpass near 112th Ave was built in 2003. The 120th Ave bridge was replaced in 2006. The 128th Ave bridge was replaced in 2008. New interchanges at 136th Ave and 144th Ave opened in 2004 and 2006, respectively. The replacement of 104th Ave bridge was completed in 2010.

The six-lane widening north of metro Denver, known as the North 40 Project (40 miles from SH 7 to SH 14) had its first competion in fall 2004 of the widening from SH 7 to SH 52. Two separate projects, completed in April 2009, extended the six lanes north to SH 66. In fall 2012 a project rebuilding the SH 392 interchange with a higher-capacity diamond interchange was complete.

The US 34 interchange at Loveland was originally a full cloverleaf. This led to white-knuckle experiences for drivers using the loop ramps, as they were only going 20 mph and mixing with 75 mph I-25 traffic in the weave area. In summer 2010 the northeast and southwest loops were removed and replaced with intersections on US 34 as part of a safety project entirely funded by the Centerra development.

In Colorado Springs, the project known as COSMIX (Colorado Springs Metro Interstate Expansion) was completed in December 2007. The project was a design-build project modeled after T-REX. COSMIX accomplsihed: Total rebuild of the Bijou Street interchange, total rebuild of the Nevada/Rockrimmon interchanges and widening from Fillmore to North Academy. At the completion of COSMIX, I-25 had six lanes all the way through Colorado Springs from Circle Drive to North Academy; previously it was four lanes through the Bijou interchange and north of Fillmore. Among the deficiencies corrected by COSMIX were chronic flooding at the Bijou underpass, sharp ramps at the Rockrimmon interchange and a left exit southbound at North Nevada.

COSMIX was the feather in the cap for I-25 in Colorado Springs, it came on the heels of numerous smaller projects:

Circle Drive (former SH 29)/US 24 East: Widening to six lanes.
South Nevada/Tejon: Total interchange rebuild to eliminate sharp ramps and confusing turns. Completed 2004.
Bijou to Fillmore: Widening to six lanes. Completed 2000.

Woodmen Road: Interchange rebuild. Completed 2004.
North Academy: Eliminating two of the loops in the interchange. Completed 1998.
Another area where I-25 has required a total rebuild is through the central part of Trinidad, a large portion of which is elevated viaduct. The project to replace the northbound viaduct was completed in later 2009, and with American Recovery and Reinvestment Act (federal stimulus) the southbound viaduct was added to the contract and work swithced over to that side. The southbound viaduct was opened in February 2011.


The Valley Highway: What was originally built in Denver was not I-25, but the Valley Highway. It was completed in sections from north to south. All 11mi of the entire route (from 58th Ave. to Evans Ave.) opened for traffic on November 23, 1958. It was only built to four lanes, and traffic quickly reached capacity. Contingencies were built into the right-of-way for six lanes, but CDH could not afford to build all six. Funding would have come from the Interstate system for it, since the Valley Highway would eventually be I-25, but the funding was not available until 1957, too soon to be used for the Valley Highway.

The Mousetrap: The Mousetrap is what the I-25-70 interchange in north Denver is called. The original Mousetrap was an interchange on the Valley Highway, not designed or built to ever be an Interstate. It opened in 1951 when the first 2.2-mile section of the Valley Highway opened from 38th to 52nd Avenues. The Mousetrap was the interchange with 46th Avenue, at the time a major east-west street. The Mousetrap cost $2.2M, the largest contract ever awarded by CDH.

In the 1960s, I-70 was slated to be extended across Colorado, rather than just ending in Denver, so I-70 opened in 1964 as an elevated highway over 46th Avenue. The old Valley Highway interchange at 46th then became the link between I-25 and I-70. It still had substandard ramps and curves, and accidents were "common". The Mousetrap name dates from the late 1960s when airborne traffic reporter Don Martin observed the intertwining ramps could trap a mouse. In 1993 Martin remarked, "It had a terrible curve so that eastbound trucks going from I-25 to I-70 were always rolling over. They were the mice."

In 1971 the Denver Police Department built a 60-foot observation tower in the middle of the Mousetrap to watch for accidents and monitor traffic conditions. The substandard Mousetrap remained for over 20 years, when in 1984 it snagged its ultimate victim: Before dawn on August 1, 1984, a truck carrying six armed Navy torpedoes overturned on the SB-EB ramp. Both freeways were closed for eight hours so the torpedoes could be cleared, resulting in a traffic nightmare. The accident became a national news event and made Congress aware of Denver's problems with the Mousetrap. It was the pivotal event in starting reconstruction of the Mousetrap. At the time, the interchange carried 300,000 vehicles a day; 1997's count was 340,000 VPD, more than projected to use it in 2010.

Construction on rebuilding the Mousetrap started in June 1987. Many phases followed, including: New 44th Avenue bridge; new I-25 alignment through interchange; new I-70 alignment through interchange; widen I-25 from 38th to 58th Avenues and new HOV lanes; reconstruct 58th interchange; reconstruct 38th/Park interchange including huge flyover into downtown; rebuild I-70 from I-25 to Washington; and rebuild I-70 from Washington to Brighton. $269M later, the reconstruction was finished with a dedication of the westbound I-70 viaduct on December 16, 2003.
Info from articles in the March 23, 1998 and December 16, 2003 Rocky Mountain News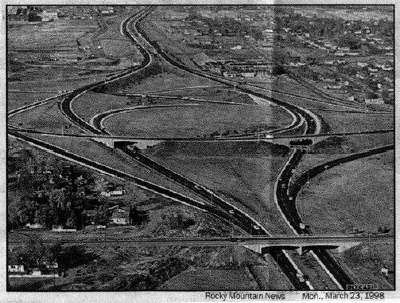 The Mousetrap in 1958, looking north.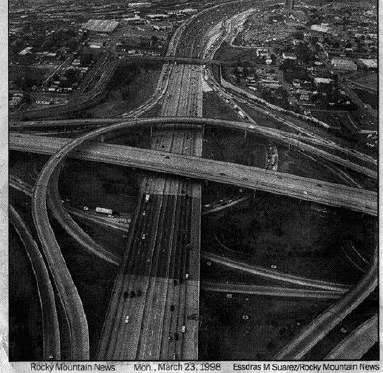 Looking south along I-25 over the Mousetrap in 1998. HOV lanes go down the middle. Both graphics are from the March 23, 1998 Rocky Mountain News.
Related Site: I-25 @ Interstate Guide

Continue:
Last updated 8 November 2014