Colorado Highways:
Interchange Names
---

The Mousetrap
I feel this is one of the most unique interchange names in the US. Everyone in the metro calls it this, from drivers to the media to CDOT. The "Mousetrap" name dates from the late 1960s when airborne traffic reporter Don Martin observed the intertwining ramps could trap a mouse. But back then that was different Mousetrap from now. Built in 1951 as the interchange between the Valley Highway and 46th Avenue, it included left entrances and exits in several of the directions. On August 1, 1984, a truck carrying obsolete torpedoes overturned on a ramp, holding up traffic for for hours so the torpedoes could be cleared. It resulted in a traffic nightmare and became a national news event. In 1987 CDOT started upgrading it to the state that it is now.

Rocky Mountain News, March 23, 1998
The Mousetrap in 1958, looking north. At the time of the picture, the north-south route was US 87/SH 185, and the east-west route SH 72.


Rocky Mountain News, March 23, 1998
The Mousetrap in 1998, this time looking south.
---

The Full House
Line up the digits (2-2-2-5-5) and what do you get? Yep, a full house. This name is the brainchild of Duncan Shaw of Denver, who had been promoting it since before 2001, but to little success. Then Kevin Flynn, transportation reporter for the Rocky Mountain News, asked readers for a name for the I-25/I-225 interchange in November 2002. I, and probably others, suggested The Full House to Flynn, and in his March 17, 2003 column he heartily endorsed it.
'Full House' wins naming game for I-25, I-225 exchange
By Kevin Flynn, Rocky Mountain News, March 17, 2003

The Full House. That's my pick for naming the reconstructed T-REX interchange on Interstate 25 at Interstate 225. The name reflects its busy traffic loads - nearly 200,000 cars a day winding in and out of its ramps and underpasses. And it's a name that has playful fun with the highway numbers. I-25 and I-225, get it? In poker, you'd be holding a hand known as a full house - three twos and two fives. Not the greatest hand, mind you, but often a winner.

A while back, I solicited you wonderful readers to come up with a decent name for the interchange. There's only one stack of ramps and highways in these parts that has a really colorful name, and that's the Mousetrap at I-25 and Interstate 70.

... The Full House suggestion comes from Duncan Shaw, producer of the 4 p.m. news on KCNC-Channel 4. He's been pushing it for a few years but it hadn't gotten much traction other than in an online group of roadgeeks, of which I am one. "I just kind of threw it out there at one point a couple of years ago," said Shaw, 29, a man who would rather drive than fly. He once drove to San Francisco using U.S. 50 instead of Interstate 80 just to say he did it. That's roadgeeking.

He mentioned the nickname to a couple of the metro area's traffic reporters, but it was never picked up. I like it because it's short, to-the-point, descriptive of the congestion there and, finally, it's creatively unique.

... Among the other responses I received to my nickname invitation were some that are unique to the interchange. Lew Cady, longtime ad man from Denver, offered to play off the highways' location at the Denver Tech Center and the number of accidents there. His suggestion: The Denver Wreck Center. Dan Daru, from KWGN-Channel 2, thought the perfect name would be the Southtrap, because, well, it's south of the Mousetrap.

... But for my money, the Full House says it all. I say we start calling it that. T-REX spokeswoman Karen Morales liked it too. "It certainly fits the bill," she said. "It really is a full house there."
So far "The Full House" has not moved into widespread usage. If, or when, we hear CDOT referring to the interchange as that, then I guess we'll know it's caught on.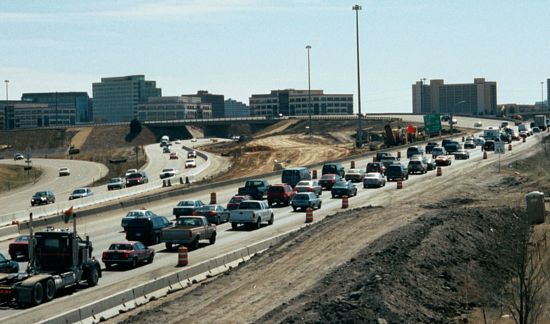 The Full House on a Saturday morning in March 2002, looking south from Quincy Avenue.
---

1) The Death Merge? 2) The Turnpike Tangle
The tangle of ramps, mainlines, C-D roads, and bridges over Clear Creek where these routes come together north of Denver has no recognized name. I've been told that some at CDOT call it "The Death Merge", but my speculation is that that name applies to only one specific part of it, namely the exit from southbound I-25 onto US 36's C-D road where a driver has to quick move right two lanes to get to eastbound I-76.
Thus I've thought up "The Turnpike Tangle", paying homage to US 36's birth west of the interchange as the Denver-Boulder Turnpike in 1952.
Aside: I've heard traffic reporters use "Death Merge" to describe other interchanges in Denver, particularly southbound I-225 to southbound I-25, where a driver had to swerve right five lanes to get to the Belleview exit. That situation no longer exists thanks to T-REX reconstruction.

Continue:
Created 13 May 2001
Last updated 28 April 2003