Colorado Highways: US 34

Return to Routes 20-39
Colo Hwys Home About

Location: Northern Mountains > Northern Front Range > Northeastern Plains
Length*: 250.67mi signed; 259.53mi total
W End: Jct US 40 in Granby
E End: Nebraska border east of Laird (link to Chris Geelhart's site)
Nationally: E End: Jct IL 43 in Berwyn, Illinois (1122mi)
Counties: Grand, Larimer, Weld, Morgan, Washington, Yuma
Places: Granby, Grand Lake, Estes Park, Loveland, Greeley, Evans, Garden City, Kersey, Wiggins, Fort Morgan, Brush, Akron, Otis, Yuma, Eckley, Wray
NHS:

US 40 east to I-76, with a gap where it's in RMNP
While concurrent with SH 71 in Brush

Expressway:
Five-lane undivided on Loveland's west side
Four-lane divided from Loveland east to the BR 34 intersection east of Greeley. Includes interchanges at I-25, west BR 34, SH 257, 23rd Ave., and US 85
Five-lane undivided from the east BR 34 intersection to Kersey
Four-lane divided from Kersey to CR 61 east of Kersey
Four-lane undivided from Mileposts 128 to 135 west of Dearfield

Spur Connection: From US 34 east of Brush northeast to I-76/US 6 (Exit 92)
Broken Route: Discontinuous due to an unmarked multiplex with I-76 from Exits 66 to 75.
Mountain Passes: Going over the Continental Divide in Rocky Mountain National Park, US 34 goes over two passes.
The western one is Milner Pass (10,758ft; 5.4% grade on west side)
The eastern one is Fall River Pass (11,796ft)
Sections Closed in Winter: US 34, as Trail Ridge Road, is closed every winter from the Colorado River Trailhead north of Grand Lake east to Many Parks Curve west of the US 36 intersection in RMNP. This is usually from mid-October to Memorial Day.
Memorial Designations: SSG. Christopher J. Birdwell Memorial Highway (I-25 to SH 257). Birdwell grew up in Windsor and was killed in Afghanistan in August 2012.

Scenic & Historic Byways:

Colorado River Headwaters (US 40 to Grand Lake)
Trail Ridge Road/Rocky Mountain National Park (Grand Lake to Estes Park) (All-American Road)

Milepost Guide:
0.00: US 40, Granby (begin US 34 in Grand County)
15.12: Enter Rocky Mountain National Park

32.33: Enter Larimer County, Milner Pass
53.75: US 36, Deer Ridge Junction
57.85: Leave Rocky Mountain National Park

60.96: West jct BR US 34 west of Estes Park
62.50: East jct BR US 34 and US 36, Estes Park
91.92: US 287/Cleveland Ave, Loveland
96.25: I-25 Exit 257 interchange east of Loveland
98.84: Enter Weld County

102.47: West jct BR US 34 interchange west of Greeley
102.80: SH 257 interchange
112.70: West jct US 85 interchange, Evans
113.13: East jct US 85 interchange
115.41: East jct BR US 34 east of Greeley

143.22: Enter Morgan County

144.47: SH 144
149.16: SH 39 interchange, Wiggins
149.63: I-76/US 6 Exit 66 interchange east of Wiggins (end US 34)
158.49: I-76 west frontage road at Exit 75 interchange west of Fort Morgan (begin US 34 in Morgan County)
162.96: SH 52/Main St., Fort Morgan
172.41: West jct SH 71/Colorado Ave., Brush
173.57: East jct SH 71 east of Brush
173.85: Spur US 34 (to I-76 Exit 92) east of Brush
180.58: Enter Washington County

196.33: SH 63, Akron
209.30: SH 61, Otis
218.37: Enter Yuma County

223.34: SH 59, Yuma
249.93: US 385, Wray
259.53: Nebraska border (end US 34)
Annual Average Daily Traffic (2008):
4500 at US 40, Granby

3800 north of West Portal Rd., Grand Lake
2000 east of US 36, Deer Ridge Jct.
4100 west of BR 34, Estes Park
6100 northwest of BR 34/US 36
16,900 east of BR 34/US 36
5000 east of CR 63/Mall Rd

6700 east of CR 43, Drake
7700 east of CR 29/Carter Lake
20,500 east of Namaqua Rd., Loveland
42,500 east of Boise Ave

41,000 east of I-25
27,400 east of SH 257
32,400 east of 47th Ave., Greeley
28,600 on US 34/US 85
11,200 east of US 85
12,300 east of BR 34

5900 east of Kersey
4200 east of CR 386

4100 east of SH 144
3200 at I-76, Wiggins
3000 at I-76, Fort Morgan
10,200 east of SH 52
4400 east of CR 24
5300 west of SH 71/Colorado Ave., Brush
2300 east of Spur 34
4700 west of SH 63, Akron
4800 east of Akron
2400 east of SH 61, Otis
7100 west of SH 59/Detroit St., Yuma
2200 east of CR U

4900 west of US 385, Wray
1200 at Nebraska border
Guide:
From Granby, US 34 heads northeast up the Colorado River valley. It skirts the west side of Lake Granby, centerpiece of the popular Arapaho National Recreation Area. It then passes along the west side of Shadow Mountain Reservoir, on the north side of which is the turnoff to Grand Lake (town and lake). North of Grand Lake US 34 immediately enters Rocky Mountain National Park.


US 34 has the distinction of being Trail Ridge Road through RMNP. According to papers around here, it's the highest continuously paved road in the US. According to literature from the park, you want to allow four hours for this drive. Being that Trail Ridge Road is so high, this presents problems concerning snow removal and keeping the roadway open. Of course, they don't even attempt during the winter (see Closed in Winter above). Very high wooden poles line the roadway and mark the corners of buildings, so when the clearing is done in the springtime, they can tell where they're going.

Trail Ridge Road through RMNP starts off paralleling the Colorado River on the west side of the park. At the Colorado River Trailhead, US 34 breaks off the river and starts climbing up. After numerous switchbacks it reaches Milner Pass at 10,758 ft and the Continental Divide. However, Trail Ridge Road continues climbing from there. Eventually it rises above trail line, passes by the Alpine Visitor Center. East of the center, it finally reaches its highest point at 12,183 ft. Trail Ridge Road then spends several miles rolling up and down the alpine tundra, then begins descending.


Coming down the east side of RMNP, US 34 hits the western end of US 36 at Deer Ridge Junction. From here, one can go to Estes Park either via US 34 or US 36, and will end at the same intersection in town. What's interesting about Deer Ridge Jct. is that US shields are actually used on the signs, breaking usual Park Service procedure. Try finding US shields in Yellowstone, and you'll be looking forever. Coming east, the signs point straight ahead on US 36, and say Estes Park, but also call the route "Alt 34". Or, you can turn left on regular US 34, which is also signed for Estes Park. Just passing through? Then take regular US 34, missing downtown.

US 34 continues downhill from Deer Ridge Junction, finally hitting the Fall River valley floor at Horseshoe Park, a wide valley. You can turn west up Fall River Road, a one-way alternate to Trail Ridge Road which meets Trail Ridge Road by the Alpine Visitors Center. US 34 then continues east along Fall River, through the RMNP Fall River Entrance Station, and into Estes Park. On the west side of town, US 34 splits, with a business route following Fall River Rd. and Elkhorn Ave. into downtown, and the bypass going along Wonderview Ave. The 34 bypass passes harmlessly to the north of downtown on Wonderview Ave. As Elkhorn Ave. continues east, Wonderview curves down to the south, and it all culminates in an intersection of US 34, BR US 34, and US 36. It is a four-way signalized intersection:
       34 |
          |
36/BR34 --+-- 34
          |
  36/TO 7 |

Westbound is Elkhorn Ave. to downtown, north is Wonderview Ave., east is Big Thompson Ave into the Big Thompson Canyon, and south is St. Vrain Ave.
US 34 goes through the Big Thompson Canyon between Loveland and Estes Park. It may only be twenty miles as the crow flies, but the drive takes about 40 minutes, because the road is forced to follow the canyon, which is seriously curvy. You can average only about 40 mph. Passing lanes lane provided every once in a while, in case you get stuck behind a slow vehicle. Then, eight miles west of Loveland, US 34 goes through an area of the canyon called "The Narrows". Yes, it is very narrow. There's only room for the two lanes of the roadway and the river. Several hairpin turns exist in the Narrows. Then, immediately east of the Narrows, US 34 finally breaks free out of the canyon.
West of Loveland, US 34 becomes five lanes wide (center lane left turn) at the intersection with Glade Road. From there through Loveland, US 34 is Eisenhower Blvd. Right in the middle of Loveland, US 34 intersects US 287. At that point, though, US 287 is on two one-way streets, so 34 hits it twice. Southbound is at Cleveland Ave., northbound at Lincoln Ave. US 34 then emerges on the east side of Loveland as a four-lane divided expressway, and heads due east toward I-25. The interchange with I-25, Exit 257, is a partial cloverleaf. East of I-25, US 34 continues east as a four-lane divided expressway with a 65mph speed limit. Two places, there are at-grade railway crossings, which use standard signal lights instead of red, flashing lights.
Now the US 34 business route through Greeley. The western split is six miles east of I-25. Eastbound, BR 34 cuts off to the right as a two lane exit, and then takes a flyover off to the northeast, while Bypass 34 continues due east. US 34 used to drop down to two lanes east of the interchange, but a project in 1998 took care of that.
East of the BR 34 flyover, US 34 has a diamond interchange at SH 257, where one can go to either Windsor or Milliken. US 34 then turns southeast, then east, and at 65th Ave. goes onto what can be called the 28th St. Expressway with a 55mph speed limit. US 34 eventually becomes a quasi-expressway "parkway" with trees in the median and a 45mph speed limit along 28th St. Included is an interchange with 23rd Ave.
Now we get to the heart of things in Greeley: The US 34/US 85 interchange. This can be a confusing mass of ramps and roadways if you're not careful, but all you have to do is look at the signs. At this interchange, there are five roadways involved: US 34 comes in as 28th St. from the west; US 34 heads off to the east toward Ft. Morgan; US 85 goes southwest toward Platteville; BR 85 heads north toward 8th Ave. and downtown; and US 85 heads northeast skirting the east side of downtown.
A map is in order: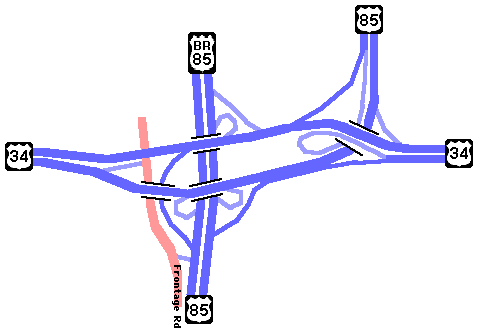 It's a pretty logical design except for one glaring problem: The eastbound 34 to southbound 85 movement. I got to experience this problem firsthand, and it's not pretty. Coming east, one would expect that since you want to head south, you would take a ramp to the right, right? Wrong! You take a left ramp! You exit left and curve on a little stub of a ramp off to signal lights, and can either turn left (north) on 8th Ave. to businesses, or right (south) to Denver. The roadway one turns onto is only the east frontage road, not the main southbound roadway. To get to the mainline SB US 85, you have to access it at a short connecting road. If you look up at my map of the interchange, see that little stub of a roadway which goes between the frontage road and US 85 south of the interchange? Well, that's the way you get to southbound US 85 if you've come from US 34 eastbound. Unfortunately, coming south along the frontage all that's there to mark it is a single sign which says "DENVER" with a left arrow. I missed it the first time through.
US 34 continues as a four-lane divided expressway east from the 85 interchange. It goes over the South Platte River, and then and merges with BR 34 2.3 miles east of the interchange. The intersection is just a T, no signal lights or anything. US 34, there at the east BR 34 intersection, "undivides" and becomes a five-lane undivided expressway with a center left turn lane. From there to Kersey there are numerous intersections with county roads.
At Kersey, US 34 used to go through the north end of town, but a bypass was built that now veers to the north side of town. Approaching Kersey eastbound, there is a ramp-style exit that takes you from the expressway onto old US 34. From Kersey eastward, US 34 once again becomes a four-lane divided expressway. That expressway then ends east of town, east of the Monfort cattle feedlot and US 34 warps down to two lanes for the first time since Loveland.
Between the Monfort plant and SH 144, there is a stretch from Mileposts 129 to 135 which is four-lane UNdivided, meaning two lanes in each direction with a double yellow stripe. The eastern end of that four-lane stretch is at Weld CR 386. It's kinda odd to see that four-lane stretch sitting out there all by its lonesome self, but the terrain that it's going over is very rolling, so passing would be quite hard, giving it a reason to exist.
US 34 continues southeast along the South Platte through the non-towns of Dearfield and Masters, joining I-76 at Wiggins. US 34 has a partial interchange with I-76 at Exit 66B, where you go from 34 to eastbound 76, and from westbound 76 to 34. The nearby I-76 interchange with SH 39-52, Exit 66A, features to get to and from the other directions of I-76 as well as a rest area.

At Exit 75, US 34 leaves I-76, heading due east toward downtown Fort Morgan, passing trhough town on Platte Ave. SH 52 starts its eastern segment in Fort Morgan, turning north off of 34 and heading along Main St. US 34 continues paralleling I-76 about one mile south of it, and goes east on a heavily traveled two-lane road to Brush, most of the time with irrigation ditches bordering one side or the other. It goes east through Brush as Edison Ave., and has a multiplex with SH 71 for one mile.
Just east of the east SH 71 intersection, US 34 intersects Spur 34, where one can head out to I-76 Exit 92 and US 6 toward Hillrose. From there, US 34 heads east across the plains paralleling a BNSF rail line on its north side. At Akron US 36 passes through town on 1st St, intersecting SH 63 in the middle of town. The terrain of Central Washington County is heavy with agriculture and cattle lots but also oil wells. East of Akron US 34 passes through an isolated grain elevator complex at Platner.

Next town east is the crossroads burg of Otis, where SH 61 has its south end at US 34. East of Otis US 34 crosses into Yuma County, one of the highest corn-producing counties in the US, and flies up and over to the south side of the BNSF rail line. US 34 then passes through Yuma along 8th Ave, passing to the south of downtown. SH 59 is met at a signal on the east side of town. East of Yuma US 34 passes massive feedlots and then just to the south of Eckley.

As US 34 goes from Eckley toward Wray the terrain quickly changes as the valley for the North Fork Republican River is crossed into. Wray sits below the prevailing terrain down in the river valley, with US 34 crossing east through town on 3rd Street. A signal in the middle of town is the intersection with US 385, the High Plains Highway. From Wray US 34 continues east along the river valley with bluffs off to the side, passing through Laird and then to the Nebraska border.

Photo Gallery:
History:
US 34 is not an original 1920s US highway in Colorado. The portion of the route from Brush to Greeley was originally US 38, but that was axed in 1932 when US 38 from Omaha to Sterling became US 6. US 34 was extended from Nebraska into Colorado west to US 40 in 1939. It was all paved from that first year. Four lanes were completed from Wiggins to Fort Morgan by 1957, and became freeway in 1960. The Estes Park bypass was complete by 1964. The expressway from Loveland to I-25 was complete by 1967.
The Greeley south bypass from the BR split east to US 85 was complete by 1970, and was upgraded to expressway from 71st Avenue east into Greeley by 1972. The expressway from I-25 east to the Larimer-Weld County line was complete by 1975, and to the west BR split by 1977. An undivided expressway between Fort Morgan and Brush was also complete by 1975. By 1979 an additional expressway section of the Greeley south bypass opened from US 85 east to the east BR split. US 34 expressway from the east BR 34 split to east of Kersey constructed in 1996. US 34 widened to expressway from the west BR 34 east split to 71st Avenue in 1998. In 1998 also an interchange was put in at SH 257.

The I-25/US 34 interchange Loveland was originally a full cloverleaf when I-25 was built. This led to white-knuckle experiences for drivers using the loop ramps, as they were only going 20 mph and mixing with 75 mph I-25 traffic in the weave area. In summer 2010 the northeast and southwest loops were removed and replaced with intersections on US 34 as part of a safety project entirely funded by the Centerra development.
US 34 in Big Thompson Canyon suffered severe flooding Sept 12-15, 2013, with numerous sections damaged or totally obiterated. The road underwent emergency repairs and was reopened to traffic on November 21, 2013. US 34 was also severely damaged east of Greeley but reopened in early October.

Suggestions:
East of Kersey, construct the four-lane divided expressway to continue east from the Monfort plant to connect with the four-lane undivided portion at Milepost 129.
Related Sites:


Continue:
Last updated 8 June 2014